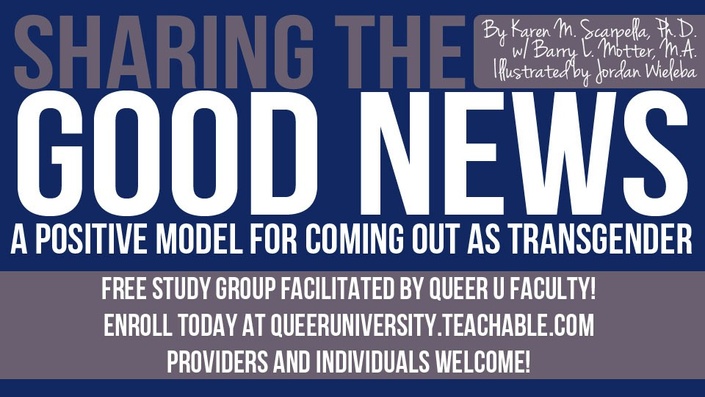 Sharing the Good News
A Free Study Group for Queer University Students!!!
This will be a FREE study/discussion group around coming out as trans* or supporting a client coming out as trans*. This course will introduce an alternative story line to the "ominous coming out talk." It will help you or your clients get clear, set boundaries, make requests, and communicate your core authentic identity!
This FREE Seminar Study Group will be facilitated by Queer University Faculty. Lindsay and Traci will read along with the group offering a short lecture with discussion and activities at the close of each section. They will be available for discussion and support around the reading material and activities. Enrollment will be accepted throughout the duration of the course but materials will be taken down shortly after the last session, so make sure to keep up!
This course has no required or recommended prerequisites! It's appropriate and available for anyone and everyone looking to learn a little bit more about communicating who they are. While the focus of this course is on gender identity it may be helpful in other coming out processes as well.
LEARNING TOOLS USED IN THIS COURSE:
Written Lecture
Process Questions and Discussion
Activities
COURSE MATERIALS:
Your Instructor
Lindsay is a Licensed Master Social Worker and Therapist in Austin, TX. She is Trans and LGBQ Affirmative, Poly Knowledgeable, and Kink Aware. She offers individual, relational, and group therapy as well as consultations. Lindsay is supervised by Louis Laves-Webb, LCSW, LPC-S.
Find out more info about Lindsay at www.lindsaylege.com or http://www.louislaves-webb.com/lindsay-lege/.
Traci is a Licensed Marriage and Family Therapist and Registered Yoga Teacher in Orange, CA. They are Queer, Trans, Genderqueer, Non Monogamous, and Kink Affirming and Knowledgeable. They offer therapy, life coaching, and consultations for clients and providers.
Find out more info about Traci at www.compassionaterevolt.com.
Both Lindsay and Traci offer in person and online services! Get connected to their individual practices to stay up to date with their community work and online offerings!
Course Curriculum
Ready For Class?!
Available in days
days after you enroll
Section 1: Pages 1-16 + Manifesting Activity
Available in days
days after you enroll
Section 2: Pages 17-22 + Style Quiz
Available in days
days after you enroll
Frequently Asked Questions
When does the course start and finish?
The course starts now and will be left of for a couple weeks after the last discussion. After that the course will be taken down so make sure to keep up with reading!
How long do I have access to the course?
After enrolling you'll have access for as long as the discussion runs!
What if I am unhappy with the course?
We would never want you to be unhappy! If you are unsatisfied with this study group please let us know! We're always looking to improve the Queer University experience!